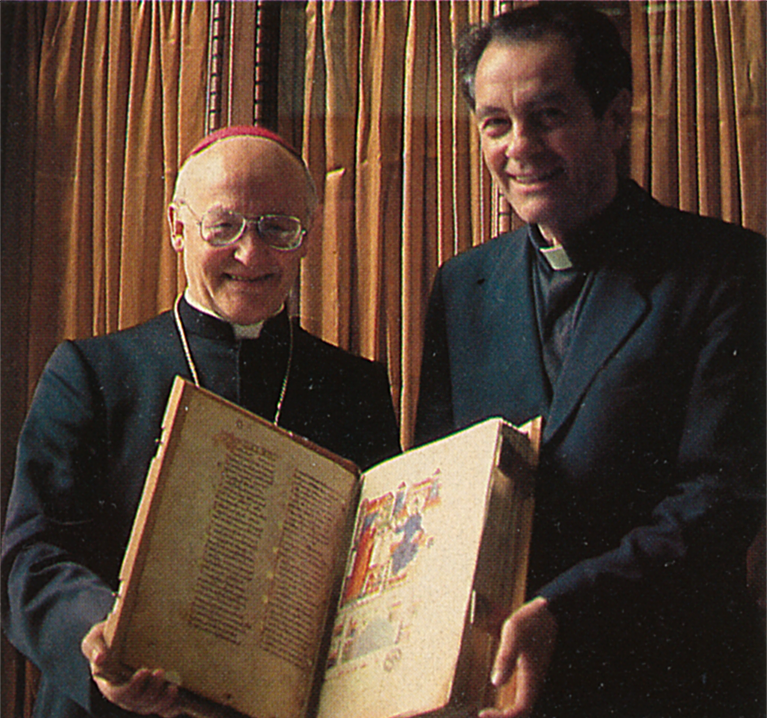 links: Kardinal Stickler, Leiter der Biblioteca, bevor  Pater L.E. Boyle (rechts) im Herbst 1984 die Leitung übernahm.
Aus Wikipedia
Leonard Eugene Boyle, OP, OC (13 November 1923 – 25 October 1999), [1] was an Irish and Canadian scholar in medieval studies and palaeography. He was the first Irish and North American Prefect of the Vatican Library in Rome from 1984 to 1997. [2] Early life Boyle was born in County Donegal, Ireland.
Leonhard Boyle war ein außergewöhnlicher Mensch, er hatte für jeden Zeit und für die Meinung des anderen immer ein offenes Ohr. Er ist begraben in San Clemente, seiner "Herberge" schon zu Lebzeiten.
Seamus Dubhghaill (Website aus den USA schreibt)
Promoting Irish Culture and History from Little Rock, Arkansas, USA

Leonard Eugene Boyle, Irish and Canadian scholar in medieval studies and palaeography, is born in Ballintra, County Donegal on November 13, 1923. He is the first Irish and North American Prefect of the Vatican Library in Rome from 1984 to 1997.

Boyle spends some years in Tralee, County Kerry, following the July 1940 death of his older brother John, who is a member of Garda Síochána and drowns while on holiday in Ballybunion, County Kerry. He is educated in the Irish language and enters the Dominican Order in 1943. He is ordained a priest in 1949 having received his doctorate in Oxford.

Boyle frequently visits Tralee, where a number of his family still reside, and is involved in many projects in the town. His immense knowledge and expertise in historical and archaeological issues is freely given in order to enhance the town. Of particular concern is his hope that the site of the original Dominican Priory at the centre of the town be conserved for future archaeological excavation.

After moving to Toronto, Boyle teaches at the Pontifical Institute of Mediaeval Studies and at the Centre for Medieval Studies at the University of Toronto from 1961 to 1984. He also serves as Professor of Latin Palaeography and History of Medieval Theology at the Pontifical University of St. Thomas Aquinas in Rome from 1956 to 1961.

In 1984 Boyle is appointed Prefect of the Vatican Library by Pope John Paul II. This appointment takes him by surprise but appears to be a recognition of his immense scholarship, expertise in antiquity and renowned interest in learning as a whole. In an effort to modernise the Vatican Library, he sets about the digitisation of the library's many thousands of manuscripts that date from hundreds of years BC, which leads to their greater availability to scholars around the world. He also extends the opening hours of the library and employs women for the first time as part of the library's staff. In 1987, he is made an Officer of the Order of Canada. In 1997, he is ousted as Prefect after his dealings with some American fund-raising associates result in lawsuits involving the Vatican.

Known for his wit and independence of mind and spirit, Boyle is once asked of his interest in being a Cardinal given the fact that all of his predecessors have gone on to be Cardinals. His reply is in the negative saying "nothing but the papacy" would do him.

Father Boyle dies on October 25, 1999. He is buried in his beloved Basilica di San Clemente, in 2000, a year after his death, following official desire to give him the honour of interment in the vaults of San Clemente — one of Rome's holiest and most historical shrines.